Originally published at Monthly Review on November 4, 2014 by The Editors
November 2014 (Volume 66, Number 6)
by The Editors
» NOTES FROM THE EDITORS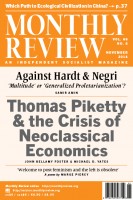 On September 20, 2014, while corporate and government officials arrived in New York City for the UN Climate Summit, organizers and activists from around the world participated in a peoples' summit called the NYC Climate Convergence (organized by the Global Climate Convergence and System Change Not Climate Change). The NYC Climate Convergence featured as the lead keynote speaker Naomi Klein, who presented the analysis of her new book, This Changes Everything: Capitalism vs. the Climate (Simon and Schuster, 2014). Her concluding chapter, significantly, is entitled "Leap Years: Just Enough Time for the Impossible." Monthly Review readers will be interested that Klein observes in her book: "Karl Marx… recognized capitalism's 'irreparable rift' with the 'natural laws of life itself'" (177—though she chooses to do so in a section criticizing the "The Extractivist Left" in South America). Later she refers to "global capitalism's voracious metabolism" (186).
Monthly Review had a strong presence in the NYC Climate Convergence with Fred Magdoff speaking on "Capitalism Is the Problem" and John Bellamy Foster on "Marx and Climate Change." (Magdoff and Foster are coauthors of What Every Environmentalist Needs to Know About Capitalism [Monthly Review Press, 2011]. For more information on their book go to http://monthlyreview.org/books/pb2419/.) Other MR authors who spoke at the NYC convergence included Patrick Bond, Jeremy Brecher, Doug Henwood, Joel Kovel, Roxanne Dunbar Ortiz, Christian Parenti, Lauren Regan, Brian Tokar, and Victor Wallis.
The following day was given over to a march and protest organized by the Global Climate Convergence, in which over 300,000 people participated, constituting the largest climate demonstration yet in the United States.