Nov. 21st: "Uniting for Fair Food" National Day of Action for the Thanksgiving season…
As the country prepares for Thanksgiving, Fair Food Nation prepares powerful call for justice from Publix, Wendy's…
Fall is in the air, and as the end of November draws closer, people across the country are making travel plans and pulling out favorite family recipes for the big Thanksgiving meal on November 26th.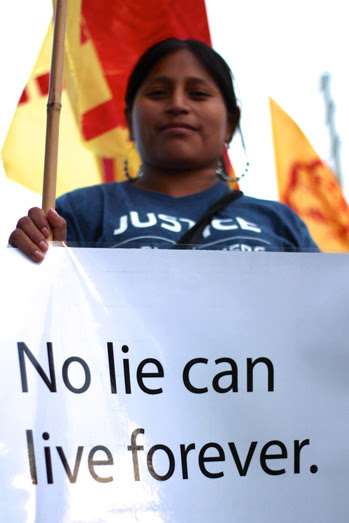 For the Fair Food Nation, the central ingredients of that meal are not only the family members around the table, but also justice for the women and men — and their families — who harvest the food on the table.
This November 21st, farmworkers in Florida are calling on consumer allies across the country to join them in demanding justice — not charity — from the major food retailers who purchase the food farmworkers harvest.  On the Saturday before Thanksgiving, we will be "Uniting for Fair Food" in a National Day of Action to call on Wendy's and Publix to move beyond charity and to make a real, enduring commitment to the human rights of farmworkers and their families.
Even as the famous Publix Thanksgiving commercials (which inspired the video at the top of the post) start to flood the airwaves in homes across the Southeast, the harsh reality beneath the supermarket's family-friendly message remains in stark contrast to the image the company promotes so vigorously.  And until that underlying reality changes, until Publix stops turning its back on the workers whose poverty fuels Publix's profits, farmworkers and their allies will press their campaign to bring the $30 billion grocer into the Fair Food fold…
Don't miss the full story on the "Uniting for Fair Food" Day of Action over at the CIW website!